BORGATA SCRABBLE
HOW TO START A GAME
Once you and your opponent(s) decide that you want to play, you then must decide who will be administrator of the game, basically that's the person who will initiate the game, because this person will be responsible for inputting all the necessary information about all the players before the game can be started... So here's a run down of how to start a game and how to play....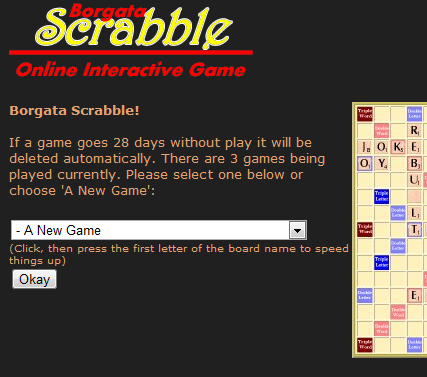 Clicking on the link provided to play scrabble, will take you to an initial screen where you can select from a drop down list.

You can start a new game or select a previous game you have started to be able to continue it.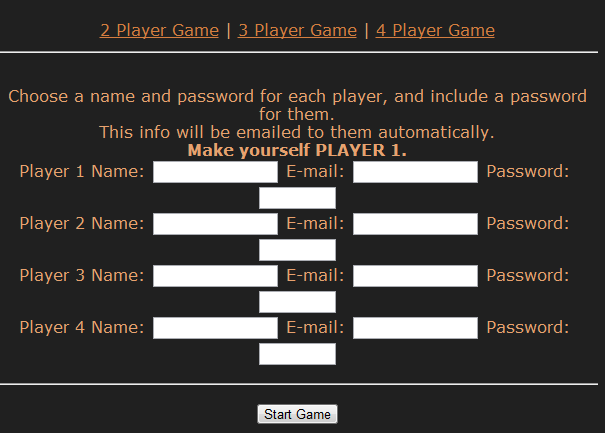 Here you will need to fill in what fields are necessary to start play.
First, select at the top of the form, what type of game you wish to play - 2,3,or 4 player. As the initiator of the game, you are going to be the administrator and therefore responsible for entering the information needed to start play, such as the names and valid email addresses of the players who are to be your opponents. (E-mail address can be any address that you have access to.)
The email notifications are valuable as they inform you of your turn, a running score for all players, the points scored on the last turn, what word was played at the last turn, what tiles you have recieved after your turn, and any messages left for you by your oppomnent, such as the letter being represented by a blank tile.
Iif you prefer not to input your email address, you can simply use the following:
p1@hmstores.co.uk for yourself
p2@hmstores.co.uk for your opponent.
Remember, should you use these addresses, you WILL NOT receive any notifications of game play and it will be down to you to provide your opponent(s) with the password you have chosen for them. You will have to notify each other of your moves during the game etc. via your FB inbox of wall...
So, enter yourself as player 1 and choose your password. You can then enter the same information for the rest of the players, as well as their passwords which can be whatever you like up to 20 characters. (These passwords will be emailed to your opponent(s) (or the email address you provided) with all other relevant info, and is to make sure no one other than yourselves can enter your game.)
In this example, we are starting a 2 player game, and the form changes like so: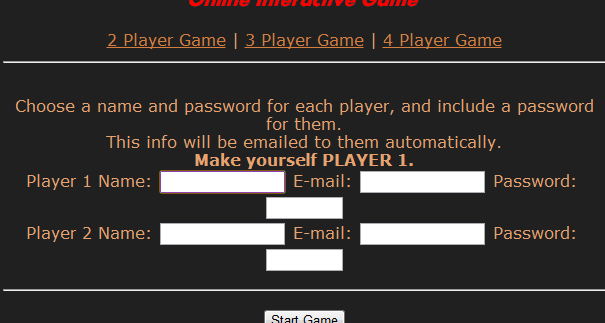 To this....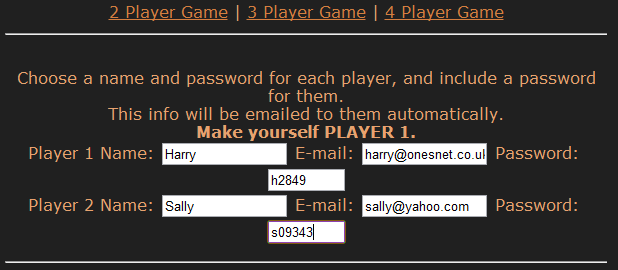 Now the required information is entered...Then you can click 'Start Game'.

The next screen as shown above will tell you if you have successfully started a game and that it has selected 7 random letters for each player to start.
Click on 'Return to Board' to load the board.
You'll notice that the names of the players and their current scores are displayed at the top of the board.
Harry goes first as he initiated the game.
| | |
| --- | --- |
| To take a turn, you must log in using the password provided | |
| | |
As soon as you are logged in, the board enters the data input mode, as shown below, ready for you to put in the letters you want to place for your turn.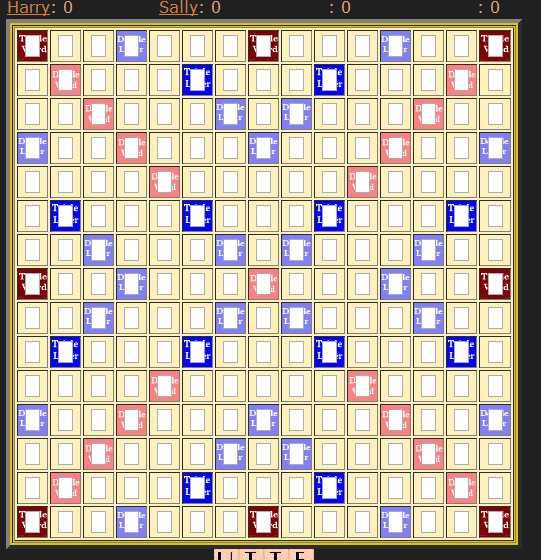 | | |
| --- | --- |
| | |
| Your tiles are shown just below the board. Decide on the tiles you want to play and then proceed to click the position on the board where you want to place your tiles and type them in - (1 letter per space or board square as shown below). | |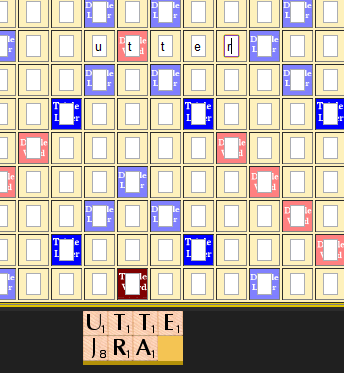 As you can see, 'UTTER' is the word Harry has chosen to play here, and has clicked for each letter he wants to play. Now he clicks the 'PLACE WORD' button to finalise his turn.
BLANK TILES - to place a blank tile type a dash '-'
Below, is the next screen you will see when you click 'Place Word' to end your turn.

The score is recorded and new letters are randomly selected and added to the tile rack. At this point, an email with this information will be sent to your opponent from you, and your opponent instructed to take their turn. As you are more than likely using Facebook when starting a game, you can use chat to inform your opponent that you have taken your turn, or sending a message to their inbox, which would be more convenient and usually quicker, but you don't have to rely on these methods to play as emails will automatically be sent each time a turn is taken and a score recorded for each player.
Here, Sally now logs in to take her turn. Harry's score is shown at the top of the board.

Sally chooses her tiles from the rack of tiles she can see at the bottom of the board and decides to play I,N,G,E,R,& S as shown below.
Sally now clicks the 'Place Word' button to enter her turn. So, as shown below the info on the word created, and it's score is displayed on the following screen, together with all the new tiles...
ADDITIONAL INFO
Below you will see that there are additional commands that are available to you during the game.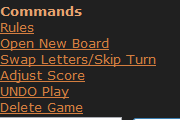 Namely:

Rules - of the game,
Open New Board - to start a new game board
Swap Letters/Skip Turn - Swap your letters for new ones, or skip your turn.
Adjust Score - On agreement between the players, this option allows you to adjust the score as required.
Undo Play - use this to undo your last turn
Delete Game - used to permanently remove the current board
You will also notice this window to the left - 'Note for players'.

This allows you to input a message that you might want to convey to your opponent(s).
Here would be a good place to make note of the letter a blank tile is representing,for example, if you have played one. Other players will then be able to refer to the note if necessary..
DICTIONARY

There is also a facility for you to be able to check any words you're unsure of before you play them. Simply type in your word and click submit.

When you click Submit, your word will be located if it exists and a definition of it will be given to you via Dictionary.com .
That is basically it.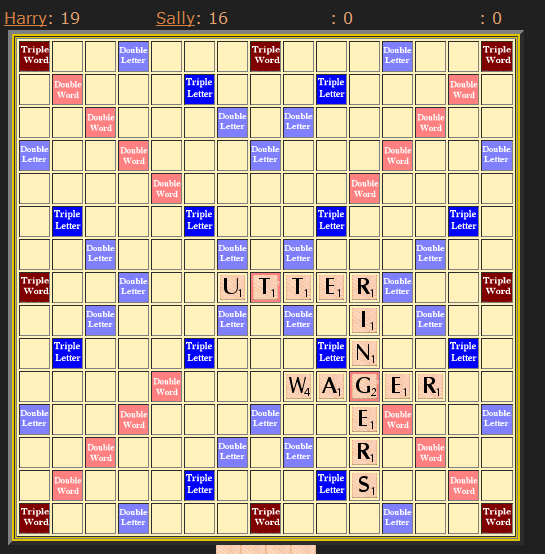 So try it, and feel free to make any comments about the game to me. The game isn't perfect, and isn't exactly how I want it to be, but for now it'll do. I'm working on getting the password aspect to be a randomly generated one that is automatically done and forwarded to each player, but that might be a few weeks away yet. Also, I'm looking at getting a simple chat system up and running that can be used in or around the game to allow players to communicate with each other.
Enjoy peeps..! :o)